It's no surprise that travelling has become so popular given the advances of technology, especially with apps like Instagram, Facebook etc. 
At any point in time, it is likely that someone we know will post a picture on social media of them being on holiday or travelling the world. Cue the envy. 
The travelling lifestyle has become more and more popular with millennials downwards, and more of us want to experience the world rather than settle down and commit to a mortgage paying back hundreds each week. 
There are so many beautiful places to experience and many of them we did not know about or even consider, until social media opened our eyes. 
On the flip side, we know that when we travel, it's pretty hard to get everything we need into a suitcase or backpack, and food is never a priority. Well now these are going to change, with the introduction of SmartBlend…
Let's assume you're a fan of juices and smoothies and you have no issue in purchasing these abroad. Great… Although they can add up and burn the back pocket a little. Now there is a perfect alternative. SmartBlend have created a compact portable blender which can be taken with you wherever you go.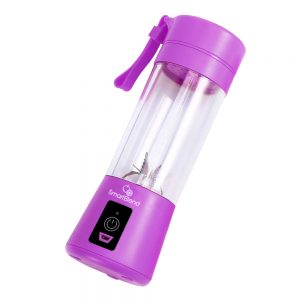 That means, you're in control of when and where you eat. All you need is the ingredients and away you go, leaving you in control of your dietary needs. 
The portable blender comes in five different colours – black, blue, green, purple and pink, which means you can pick a colour to best suit your personality and preference. The designs really are eye-catching and very trendy. You'll have no problem pulling this out of your bag in front of people. It's not bulky or ugly, just very cool. 
You're probably thinking at this stage, 'well what about charging?', which is a great question! SmartBlend is extremely user friendly in that it can be charged via USB. Each blender comes with a USB cable, which means you can plug it in anywhere there is a USB port – such as your laptop, a computer you might be using, or even if you have a plug adapter with a USB port, you can use that. And failing any of those, you can always use a power bank to charge your blender. 
Once fully charged, you can get between 10-12 uses until it needs to be charged again, however, for best results, it is best to charge after each use depending on what is being used in the blender. 
There really is no excuse not to get those much needed calories in, where you might be. 
SmartBlend have even thought about cleaning your blender while you're away. They have included a sponge with a handle that can be easily assembled by clicking it into place. Once you have cleaned it, simply unclip the sponge and handle, then place inside the blender to save on storage. 
You must be careful not to turn the blender on with anything insider other than food or liquid, as this could cause damage. 
When cleaning the blender, be sure not to get the bottom of the blender wet as this is where the motor and battery is. Heavy water damage can be detrimental to the long term use of your blender. 
How times have changed. Gone are the days of not being able to eat on the go while travelling the world. With SmartBlend's portable blenders, you can be sure that you always have a plan to eat/drink. 
If you haven't already got yourself a portable blender, then head over to SmartBlend's website and take a look. You'll be impressed for sure! And don't forget, these blenders aren't just for travelling… they can be used at home, in the office or even at work! The options really are unlimited. Wherever you go, the blender goes!